Kōrero with Tracey McIntosh
Radical honesty and joyous activism
Her remedies for our unequal society
Matching hope and humour with clear-eyed analysis of New Zealand society, Tracey McIntosh (Tūhoe) was a warm inspiration at AWC's last event for 2019. In front of a sold-out crowd at the light and airy West End tennis club, the Professor of Indigenous Studies talked about what's needed to eliminate state and personal violence: radical honesty about our society, imagination to conceive of different ways of doing things, the ceding of power from state to hapū, and truly honouring all our children and tamariki as valuable rather than vulnerable. Paula Penfold very capably stepped in at the last minute as the evening's accomplished moderator as Stacey Morrison couldn't attend, due to the passing of theatre giant and wahine toa Nancy Brunning.
Having researched Māori incarceration for several years, Tracey honoured the prisoners she sees weekly at the women's prison in Wiri for their "astonishing insight and wisdom": "I have certainly learned far more than I have given – there's no humbleness there, it's just fact." Prisoners have described everyday humiliations imposed on them as children when in state care, such as being placed in homes where kai cupboards were kept locked.
---
Tracey on… our current mess
"All the women [prisoners] I have worked with have had high levels of structural harm…. The vast majority have been in state care; the care-to-custody pipeline is evident in their stories."
"In the '70s, we thought… bringing the violence to light would bring the conditions for change – and it did. But the war on women has not stopped, the war on sexual minorities has not stopped, the war on difference has not stopped."
"Those that carry the harshest burden in our society are Māori women and Māori children… That's not to diminish the burden others are carrying but to look at the gross disproportionality."
On the government's virtual lack of response to the Welfare Expert Advisory Group, on which Tracey served: "The slowness of movement has been very disappointing."
We have to recognise the critical challenges facing society, the deep veins of violence in our society, and the ongoing legacies of colonisation and racism."
---
Being on the receiving end of structural harm means the prisoners are experts on our shared collective condition, says Tracey, so legislators would be wise to heed their views in order to change broken systems. "When something goes wrong in one of our systems, journalists will always ask me: 'should "XX"'s head roll?' As if it's not the system or the structure that's at fault." In Tracey's opinion, it's most definitely the structure that's at fault. In Oranga Tamariki, she says, we have "good people working in bad systems."
As well as valuing the expertise of lived experience, Tracey believes we need to exercise our imaginations to dream up a better world. "If I say to a class of students: "imagine we close the prisons tomorrow, people on the whole find it impossible to do. The prisons are so monolithic in our imaginaries that we can't see around, or under them."
As influences in her own life, Tracey paid tribute to wāhine Māori academics such as Ngahuia Te Awekotuku, Margaret Mutu and Leonie Pihama as well as her parents, Lorna and Eric McIntosh. She grew up proud of her Urewera turangawaewae and whakapapa: "It was a shock to me that not everyone wanted to be Tūhoe," she said, adding with a smile: "it's still a shock to me today, to be honest!"
---
Tracey on… what needs to be done
"If harm is not to be repeated, we need to practice a profound level of radical honesty at state level and individual level."
"When you're thinking about decarceration, we're talking about an entire societal change that allows the possibility of [prison] abolition to be real. What do the first five years of people's lives, of children's lives, look like? What does it mean to have much higher levels of income equality? That's your decarceration strategy."
"The intergenerational reach of the harm is so long – we need a full system overhaul."
"The research is really clear what needs to happen for children from ages zero to five. We're 4.5-5 million people. We truly can be the pilot study for the rest of the world in all of these things. "
On possible responses to Oranga Tamariki's removal of children from their families: "The state has to cede power to hapū, to iwi. You can't keep pulling the chain and think you'll get a different result."
"[As advocates and activists], we have to have emotional states of hope, we have to have joy, we have to work in our collectives and be well. We have to focus on our wellness within the groups we work with. The imagination can be a powerful space to create the possibility of joy. Sometimes that is hard to process and it feels inappropriate but it must be there."
---
For Tracey – who in the late 1970s worked with Lorna to convince Eric he needed to vote for the ban on girlie calendars in the workplace rather than just abstaining – mana wahine is power and authority that connects to mana tane, and to mana tamariki. It doesn't sit separately on its own: "it's that sense around what the collective means." She remembers a seminal feminist awakening when she was 13, thanks to visiting an elder cousin's flat in Dunedin in 1973: a poster on the wall read "a wolf whistle is the first step towards rape". 
In one of several lighter moments, Tracey described waitressing at the airport ("I loved that job") and meeting a French couple there.  "They said I had no culture, and their remedy was for me to go to France. I gave it five minutes consideration and thought 'yeah, I'll do that." She was still only 17 when she landed in Europe, and she was soon teaching English. "It was quite a shock to me to find out English had a grammar."
Later, travelling to Burundi and Rwanda as an aid worker made Tracey realise she needed an education, and gave her an understanding that violence was a characteristic of colonisation – both overseas and in New Zealand.
She said it's best to be generous towards those who are resistant to change out of fear they will lose something; who are wilfully ignorant because they do not believe it is in their interest to know. "How do you work with people to create the sense that it's in the broader interest to create those conditions of change? Again it's really complex and challenging but we can absolutely do it."
---
Tracey on… reasons for hope
"Every positive social change in the history of humanity – whether it be the abolition of slavery, dismantling of apartheid, gay liberation, marriage equality – right up to the moment of change, people believed it couldn't happen. Our work can create transformative change."
"Ranginui Walker produced a productive discomfort. People were outraged by his columns in The Listener in the '70s and '80s but everything he said is absolutely standard now, nobody even thinks he's progressive."
"I see incredible success; I am absolutely astonished by the intellectual courage of the young Māori scholars that I see. This gives me great, great heart. And the intellectual energy behind our young activists, particularly in the prison abolition/decarceration space – you can only feel heartened, it's a wonderful thing."
---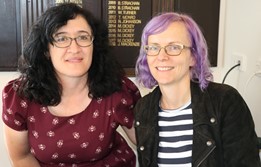 Forum attendee with Jess Haugh our sound technician