"We don't want to be known as a nation that benefits off slavery."
Equal Employment Opportunities Commissioner Saunoamaali'i Karanina Sumeo talks about the Pacific Pay Gap Inquiry, the benefits of a Samoan childhood, and New Zealand's exploitation of Pacific migrant workers.
Empower the most targeted – and you can empower everybody. Dr Karanina Sumeo was "determined" to make this a key principle of the Human Rights Commission's landmark Pacific Pay Gap Inquiry – and she was successful. As she told interviewer Janet McAllister (Pākehā) at the Auckland Women Centre's November 2022 online forum, the Inquiry's "six key learnings for government are there to benefit everybody."
For example, increasing minimum wage to the living wage would see about 145,000 Pākehā women earning more. "So, if the government signs off on that, that's a whole lot of our Pākehā sisters lifted up."
Strengthening laws, so that survivors of workplace violence and harassment can more easily access support and compensation, would also help everyone. In the last 5 years, 30% of all workers in New Zealand experienced sexual harassment, and nearly 40% experienced racial harassment, while Dr Sumeo described rates for disabled workers as "astronomical": "It is a shameful picture of our workplaces". While Pacific workers are the most targeted ethnicity, "we all want to be safe in our workplaces, we all want that crap to stop."
NZ Gender and Ethnicity Pay Gaps
(selected ethnic groups: Māori, Pacific, Pākehā)

Calculated based on median hourly earnings from main job in 2021 from Stats NZ Household Labour Force Survey data. Modified (graph bars added) from Human Rights Commission graphic PacificPayGap.hrc.co.nz
Pay transparency is another recommendation which benefits everybody: it helps all applicants if the remuneration band is mentioned in the job advertisement, and if the employer refrains from asking about previous salaries. The Inquiry recommends legally mandating publication of ethnic and gender pay gaps by organisation, and recommends unions ask for pay gap action in their collective contracts. The Human Rights Commission is leading by example: it has reviewed its own pay gaps – and improved employment practices accordingly, such as financially acknowledging cultural skills.
Meanwhile, as a country, "we have a long way to go" when it comes to treating workers with respect, says Karanina. The Inquiry heard that one young bar tender was told to clean up the results of a "pissing competition" in a bar. When she refused, she was told it was her job to do it. "Those really degrading treatments of our young people […]It should not be happening. We've got a big problem with ensuring dignity," says Karanina. But new generations give her hope. "I am really optimistic that our young people will not tolerate this. They expect a better world."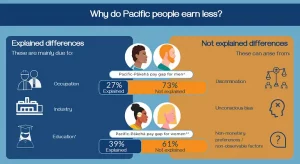 Human Rights Commission graphic PacificPayGap.hrc.co.nz
Karanina speaks fondly of her own childhood in Samoa, where she lived with extended family. "In Samoa, we didn't have material wealth, but [we had] the wealth of land and the wealth of love, the sense of place. You knew who you were, you knew what was right and wrong, you knew your responsibilities to each other. It was really important in setting the foundations for me as a person."
Moving to New Zealand when she was ten, she experienced culture shock of fences between houses, and loneliness – and also experienced material deprivation for the first time in her life. "I didn't know hunger until I came to New Zealand. I didn't feel poor until I came to New Zealand. […] If the bread ran out, that was it." Whereas "if there was a family without in the village at home [in Samoa], everybody helped out. The village raised a child, literally."
Years later – well before she started at the Human Rights Commission – she found out colleagues were being paid tens of thousands of dollars more a year than she was; the key difference was that Karanina's role was to serve the Pacific community. "It was a significant gap. I was a solo parent at the time. You can imagine what difference 30 or 40 grand would have made. Being a Pacific person, I also support my siblings back home." With a supportive manager, she was able to get her pay raised, and the impact on her quality of life was huge. "Being able to sleep and not worry. Being able to turn the heater on. The simple things we hear today from our families who are still struggling."
The conversation also turned to the shameful treatment of Pacific temporary migrant workers who come to Aotearoa under the RSE (Recognised Seasonal Employer) scheme, as highlighted by Karanina in August. Shockingly, since the exploitation was exposed, Karanina has not received any assurances that anything has changed.
"The public outcry was significant but [within a short period of time] the government had allowed an extra 3,000 workers to come. I would have thought that we would have made sure we had built accommodation for them at least. […] Grown men sleeping in bunks for months in the same room. If you're bringing people over, where are you going to put them? We haven't addressed mystery deductions from people's pay. We haven't addressed that people would arrive and suddenly find the terms of their contract have been changed. And the contracts are all In English anyway. I haven't been assured those things have stopped or have been addressed. I am not sure that that those workers who were brave enough to speak to me have received any compensation as a result of what happened to them. None of that has happened. We notified police about common assault – we don't know the outcome. And those operators are still operating."
The power differential between employees and employers is incredible. "What's at stake for [Pacific workers desperate for employment] is huge and the likelihood of them speaking out is not high when they've given everything to get here. Actually, for some we spoke to, they wanted to go back home but they still had to work the hours to earn that fare to go home but they went with nothing.
"There is so much we need to do. You have the same human rights regardless of your visa status. […Yet] RSE workers pay taxes but they don't have access to our public health system. […]
"We don't want to be known as a nation that benefits off slavery. We often talk about Pacific nations being our family, our cousins, our whanaunga. But this is not how you treat whanaunga. […] We're looking at modern slavery legislation right now because in the end we've decided that we simply can't not legislate."
Since the AWC forum, the Human Rights Commission has released a human rights review of the RSE scheme, led by Karanina. Her tireless campaigning continues to ensure no one in Aotearoa New Zealand is denied basic human rights.